The Ebus Difference
As you can see on our Onboard Experience, Ebus is committed to providing our customers a very different experience from your typical bus company. However, it goes beyond just the amenities we offer, the real Ebus difference is our commitment to people and the things that they value most: Safety, Comfort, Productivity, and Service.
Safely Home
Safely Home is our deep conviction to Safety, and the ultimate promise we make to each other, to our clients, and to the communities in which we operate. We're driven by safety. It is our first Core Value and is at the heart of all that we do.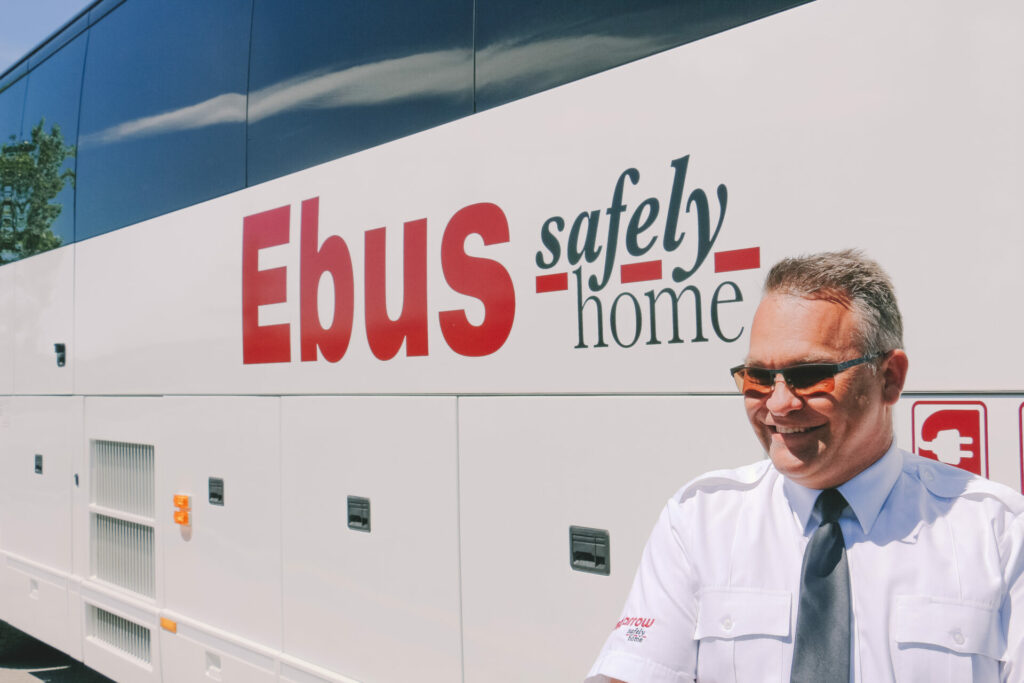 We are proud to reinforce our convictions and Core Values with Safely Home as it represents our deepest commitment to Safety and is the ultimate promise Ebus makes to each other, to the communities where we operate, and to the public and customers that we value deeply.
So, what does Safely Home mean to Ebus? It means taking safety seriously on a personal level throughout our company. It's about making good choices for ourselves, our co-workers, passengers and the public. It is a declaration of our absolute commitment to safety in everything we do and, ultimately, it is about getting each and every one of us and our passengers Safely Home at the end of our respective journeys.
Safely Home reminds us that Safety is our first Core Value and is who we are and what we stand for. This is an exciting time in our history, and we are very proud to say that Safely Home is the heart of Ebus.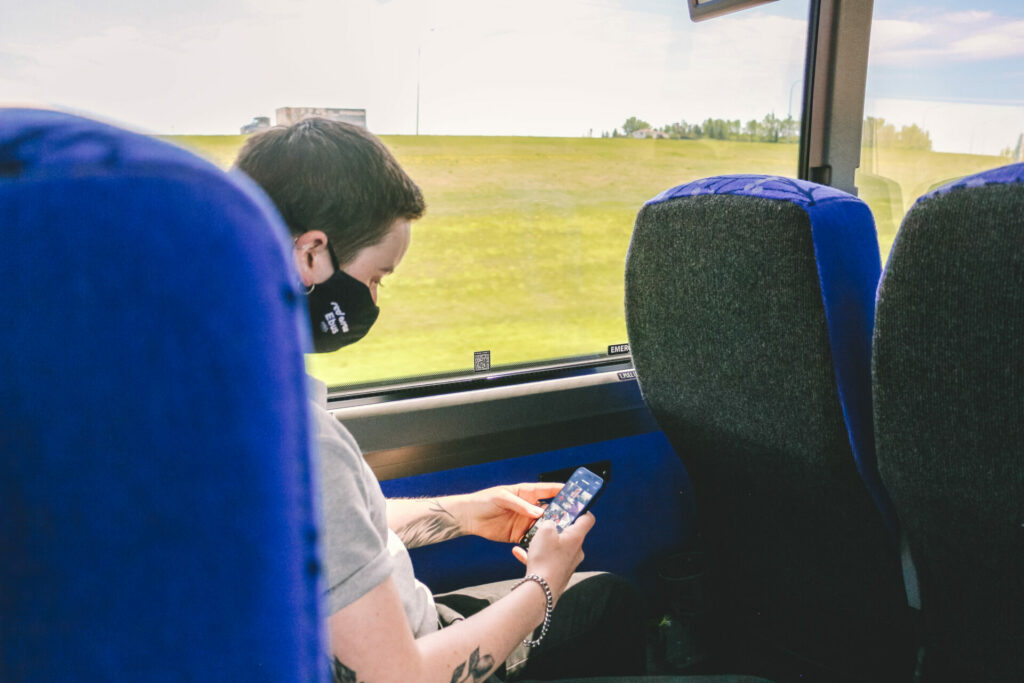 Productivity
Stay connected while travelling to your next destination on-board our coaches as your comfortable ride will allow you to finish reports, check emails, and stay online effortlessly. The connected amenities on-board allow for travellers to stay connected while on-the-go, and not worry about missing an important deadline or message. Let us worry about driving.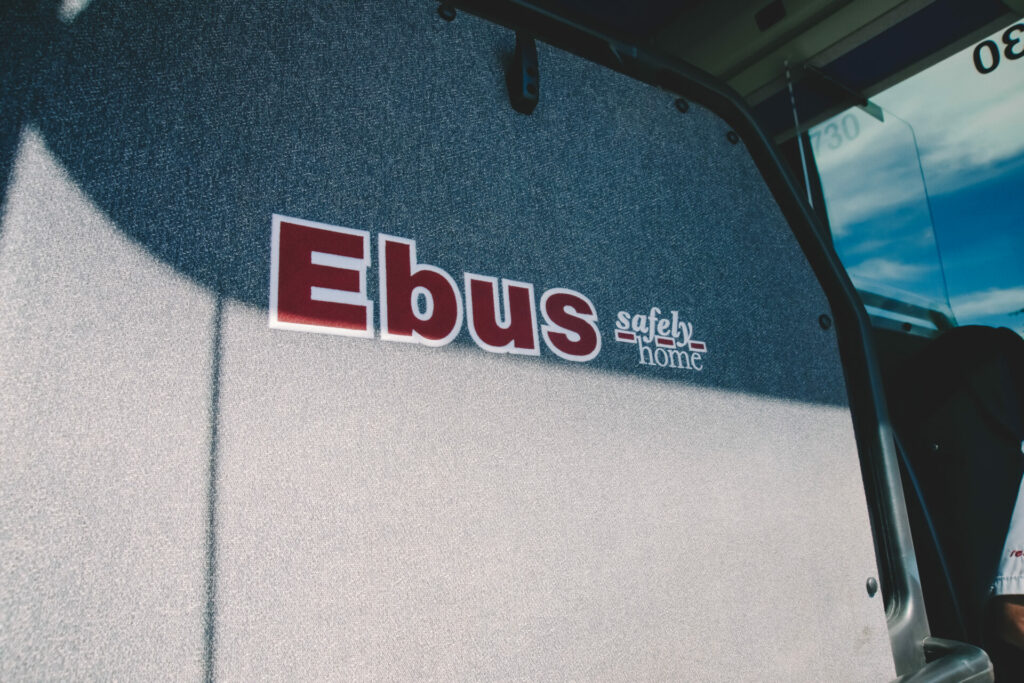 Comfort
Our passengers' comfort and safety are our primary focus. Your journey to your next destination will be a comfortable and luxurious experience with our onboard amenities. From WIFI on-board to power outlets at every seat, to comfortable seats, we are sure your ride will be enjoyable. We are proud to reinforce our convictions and Core Values with Safely Home as it represents our deepest commitment to Safety.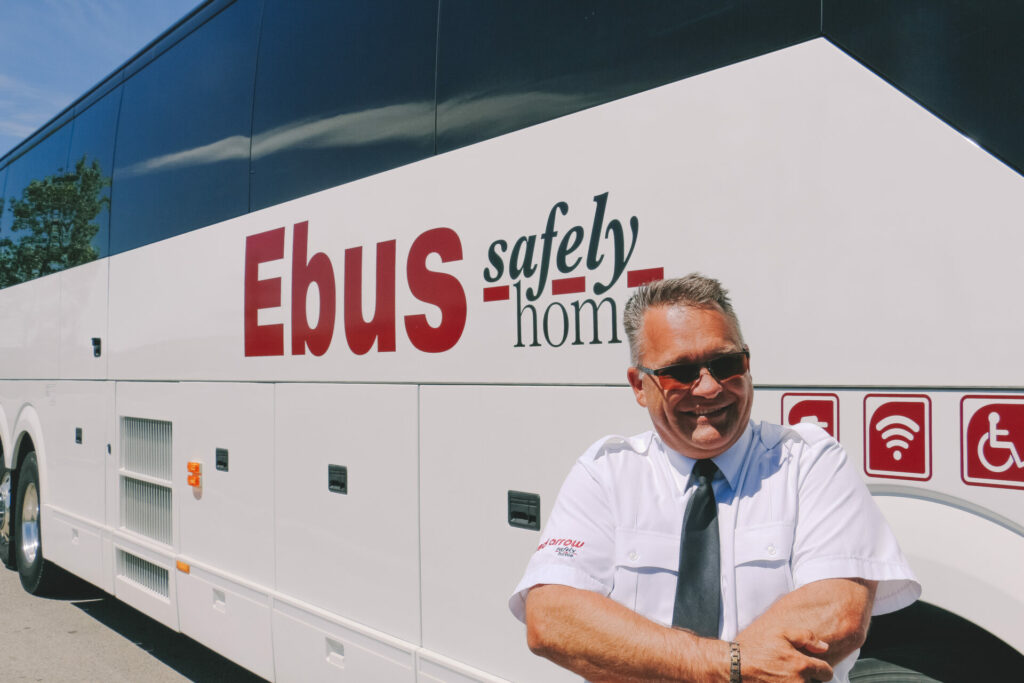 Customer Service
At Ebus, we are more than just a transportation company, we are a part of each community we serve. Ebus focuses solely on you – our loyal customers. Since we focus on luxury-class transportation for passengers, our business really is all about the people. Our level of excellence in customer service is like no other as our passengers come from all walks of life. We're happy to make your trip an enjoyable and memorable experience.