EBUS passengers share their experiences
We are proud to be a trusted form of transportation to get you Safely Home every day. We love to hear your experiences on how your experience went!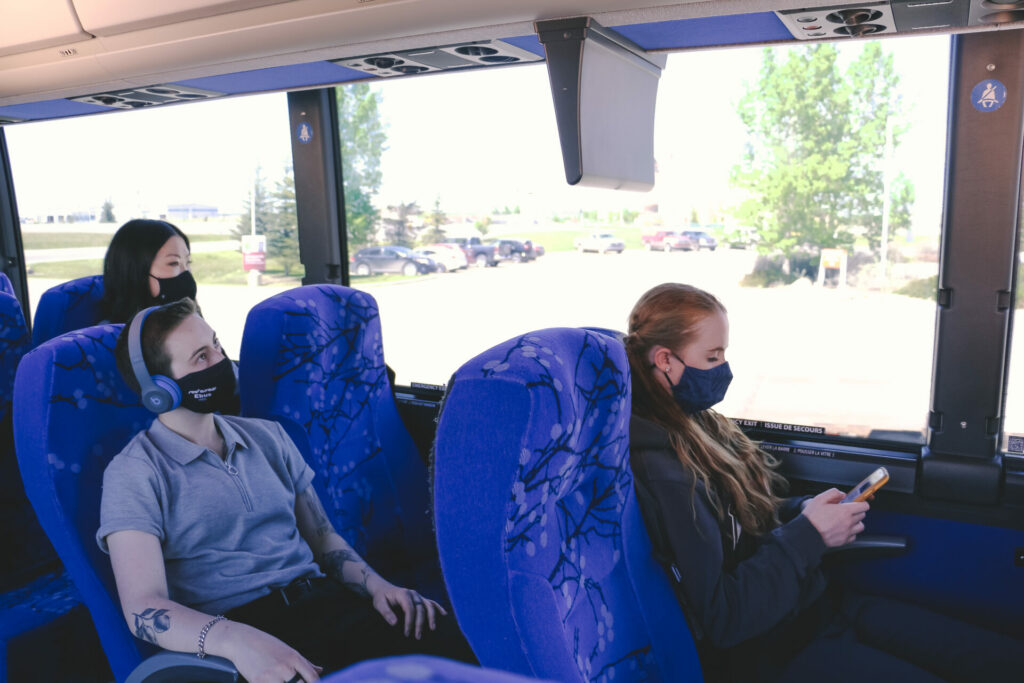 Kristin & Paul
---
I just wanted to write this to pass on my praises about one of your bus drivers driving our bus from Vancouver to Kamloops last night. He was nothing but professional and polite from the very start! It was refreshing to see. It was a difficult trip from the start with lots of traffic and delays. We got stuck on the Coquihalla highway for hours due to an accident! He was professional the whole time and made us feel safe! He even handled some difficult passengers exceptionally well. They demanded to smoke and started to get agitated, which he dealt with in a very professional and prompt manner. Please pass on my praises. I think it's important to recognize good workers, so that's why I am writing this.
Lara
---
I rode an Ebus today from Kelowna to Vancouver at 9:10 am departure Kelowna, and I had an excellent experience with the drivers and the ride. Both drivers were very informative and polite when explaining highway conditions and delays. The driving was exceptional, and I felt very comfortable and safe. I would recommend the route to my family and friends. Thank you to the company and the drivers.
Tim
---
I just wanted to commend your operation for the excellent, professional and friendly service you offered my mother during her recent trip from Merritt to Vancouver over the Christmas holiday. Your website made it very easy for me to purchase her tickets. We have been using bus service to bring her to Vancouver for years, and never has the experience gone so smoothly. The bus was very comfortable for her. She was pleased. We hope your operation continues, and we look forward to using your services again.
Bill
---
I travelled today from Vancouver to Kamloops on bus 5724. The service was prompt, the driver courteous and professional, and the bus was cleaner, more spacious and modern than a recent Seattle trip on Amtrak. On the return journey with the same driver, I noticed I had misplaced my iPad. As we were returning to Australia the next day, this was a real problem. After a discussion with the driver at our first stop, he worked out from the locations on the 'Find iPhone' App that it was still on the original bus, which had gone on a different route and returned to Vancouver later in the day. One phone call from him confirmed that the iPad was on the original bus. He gave me explicit and professional instructions on the time and location to retrieve my iPad, and happily, I'm writing this note on it right now. Well done, Ebus and their exemplary staff.
John
---
I have travelled with Ebus BC twice now and wanted to commend everyone on their fantastic service and thank you for stepping up to the plate since Greyhound left. I will be travelling with Ebus from now on and recommending Ebus to anyone looking for transportation within the lower mainland of BC.
Dan Rogers
---
Efficient inter-community bus service allows family and friends to remain connected, but it also allows businesses to connect with their customers and strengthens the economic fabric of the Okanagan. Ebus is providing that critically important link. Well done, Ebus!
Barb
---
I just wanted to thank you so very much for proving to be the best. This is one of the reasons why I am loyal to your company as a customer. You are helpful and always there for me and others. I appreciate and am overly grateful for everything you have done for me. I will be travelling indefinitely with you for these reasons: Best Customer Service and putting your customers' needs first, where possible. Thank you so very much.