about Calgary
The city of Calgary is affectionately known as "CowTown". This cosmopolitan metropolis in southern Alberta has everything a traveller could want in a destination spot. Here you can find all sorts of culture and art as you experience the history of downtown. The city's rapid growth is due to its status at the Centre of Canada's Oil industry.
One of the most well-known attractions is its yearly event, the Stampede. Every year it features unique food, shopping, fair-style rides and of course, The Rodeo! Calgary is also home to die-hard hockey fans and the NHL team, the Calgary Flames.
Calgary is also a stone's throw from the Rocky Mountains, one of Canada's greatest wonders. You can get in touch with nature or drink in the rich history of the national park of Banff. Calgary is truly the best combination of inner-city and nature.
Experiencing extreme highs in summer, and extreme lows in winter, be sure to check on local weather prior to your visit.
Here is a general idea of the weather in each season:
| | High | Low |
| --- | --- | --- |
| spring | 11℃ | -2℃ |
| summer | 30℃ | 10℃ |
| fall | 12℃ | 0℃ |
| winter | -1.6℃ | -35℃ |
*All weather is shown in Celsius
Stop Information
Downtown Ticket Office
Address
101-205 9 Ave SE, Calgary, AB T2G 0R3

Hours of Operation
MON                                            05:30 – 18:30
TUES                                           05:30 – 18:30
WED                                            05:30 – 18:30
THU                                             05:30 – 18:30
FRI                                               05:30 – 18:30
SAT                                              07:30 – 18:30
SUN                                             07:30 – 18:30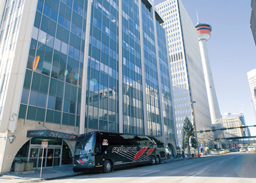 Our downtown ticket office is located on 9th Avenue, just down the street from the Calgary Tower. This location is easily accessible by transit and by car.
Impark Parking is available next to the ticket office.
– Hourly – $8.40
– Daily (6 am – 6 pm) – $26.25
– 24 hour – $36.75 (6 am – 6 am only).
Must pay by credit card.
Parking overnight is not recommended at this location.
Calgary Transit C-Train (City Hall Station) is located two blocks North on 7th Ave.
Please visit www.calgarytransit.com for schedule information.
Whitehorn LRT Parking Lot
This stop is at the Whitehorn LRT Station Parking lot on 36 St NE. Between Whitehorn Drive and 37th Ave NE, across from the Whitehorn Multi-Services Centre.
There is no parking allowed at this location. However, pick-up and drop-off is permitted in the LRT station parking lot.
The stop is located at a public transit station. Please visit calgarytransit.com for schedule information.
Cross Iron Mills
Address
261055 Cross Iron Blvd. Entrance #2
Hours of Operation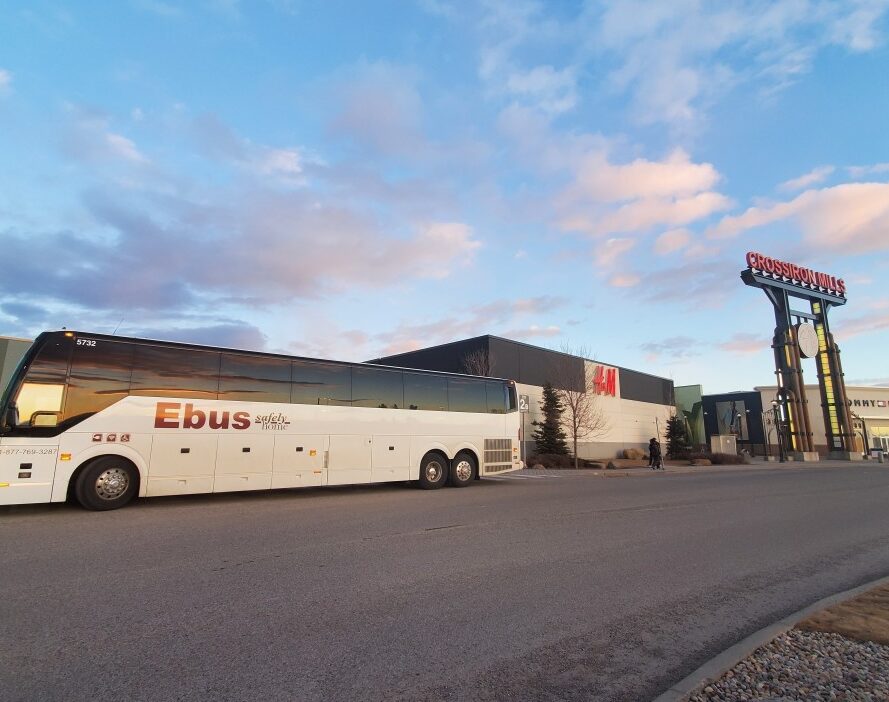 The Ebus pick up zone at Cross Iron Mills is at Entrance #2 – The ranch entrance.
There is no long term parking available at the mall.
Calgary Transit has bus routes that stop at Cross Iron Mills.
Please visit www.calgarytransit.com for schedule information.