About Vancouver
Vancouver is the perfect mix of adventure, sports, relaxation, attractions, and fun! This city is a wonderful place to visit, no matter the time of year. Each season brings a different experience and tons of fun.
Vancouver is known for being a sports hub with a variety of professional sports teams including the NHL Vancouver Cancucks, the Vancouver Whitecaps FC, The BC Lions football team, Vancouver Canadien's baseball team, and many more.
This shoreside city hosts a variety of concerts each year in pop, rock, hip hop, indie, folk and more. It is also known for its annual music festivals that often take place in Stanley Park.
Vancouver activities include:
Granville Island
Nearby Ski Hills
Golf Courses
Camping
Parks
Beaches
Wineries and Breweries
Cycling & Mountain biking
Museum of Vancouver
Weather
Vancouver is known for it's warm summers and rainy winters making the climate quite enjoyable year round!
| | High | Low |
| --- | --- | --- |
| spring | 17℃ | 8℃ |
| summer | 23℃ | 12℃ |
| fall | 10℃ | 4℃ |
| winter | 6℃ | 0℃ |
*All weather is shown in Celsius
Stop Information
Vancouver Pacific Central Station
Address
1150 Station St, Vancouver, BC V6A 4C7
Hours of Operation
Wilson's counter inside Pacific Central Station sells Ebus tickets. Their office hours are:
Daily:
6:30 am – 10:45 am
13:30 pm – 15:30 pm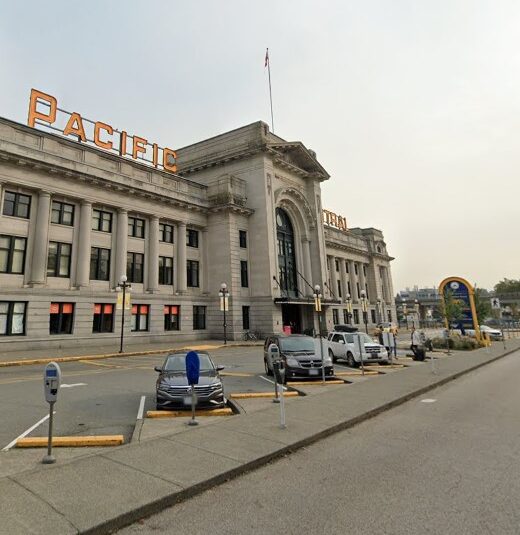 Pacific Central Station is in the heart of Vancouver. This stop is close to downtown and is easily accessible by Vancouver public transit.
Please note that there is not an Ebus desk in the building. However, a friendly Passenger Experience Representative is always there to help you during departures.
Check-in: We ask that all passengers show up 15 min before departure and wait inside the building to the right of the Wilson's counter for the boarding call. An Ebus representative will explain boarding and luggage procedures and lead you out to the bus to embark.
There is no parking available at this location.
This stop is located along the Expo train line that can go into downtown or southeast towards Burnaby BC. There are also many bus stops that come by Pacific central station so it is very easy to get anywhere from this location. Visit the TransLink website for more information and trip planning.