About Grassland
Grassland, Alberta is a small hamlet that is a short, 30-minute drive away from Lac la Biche. As one of the stops on the route between Edmonton and Fort McMurray. Grassland is a hidden nexus for points of interest. Anyone needing to stay overnight can check into the Ramada Hotel.
Historical enthusiasts can take a quick drive and explore the awe-inspiring Lac la Biche Historical Society. There you can get the historical insights into the Lac la Biche Mission. Also, learn what other facts they hold on one of their guided tours.
Travellers wanting to take a hike can explore the scenery in Crow Lake Provincial Park. For anyone wanting to do a camping trip near the lake ca Long Lake Provincial Park features day camping and overnight camping. A boat launch is also accessible if tourists prefer riding the water. Other bodies of water, like Oakley Lake and Charron Lake, are also a short distance from the town of Grassland.
| | High | Low |
| --- | --- | --- |
| spring | 1℃ | 4℃ |
| summer | 21℃ | 9℃ |
| fall | 6℃ | -1℃ |
| winter | -2℃ | -9℃ |
*All weather is shown in Celsius
Stop Information
Esso Gas Station
Address
AB-63, Grassland, AB T0A 1V0
Hours of Operation
This location is by advanced reservation up to one hour before the route departs from originating destination.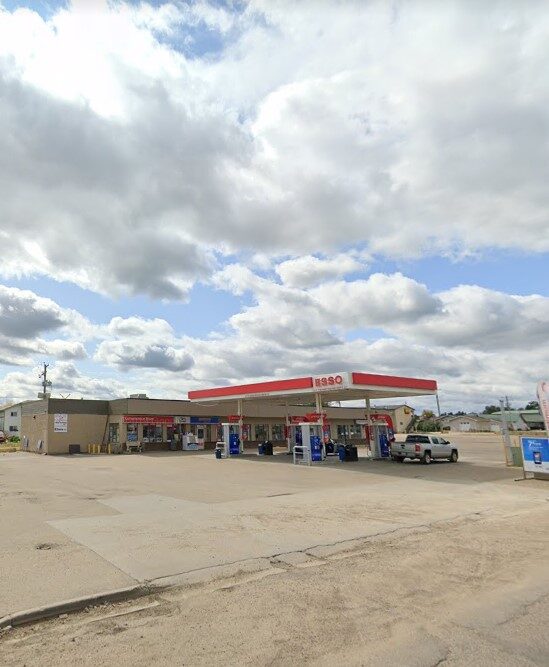 The Ebus stop in Grassland is at the Esso gas station.
There is no parking at this location.
There is no public transit at this destination.