Summer is winding down, so it's almost time for post-secondary students to pack up their beachwear and get ready to hit the books. But before you get back to class, don't forget to book your ride back to school. If your university or college campus is anywhere in Alberta or British Columbia, Ebus has your ticket to a stress-free trip.
You Know What You're Getting With Ebus
You should always ask a lot of questions before you think about catching a ride from an unfamiliar source. Is the car clean? Is there air conditioning that actually works? Will you be crammed in the back seat for hours on end? Is there enough room in the trunk for all of your stuff? Do you have to chip in for gas? Oh, and I'll bet you a dollar you won't get free wifi in that beater!
Ebus has cushy, adjustable seats with ample leg room, offers plenty of storage space and gives you three free pieces of luggage plus a carry-on. And, we can guarantee you won't find takeout wrappers strewn everywhere. Our Safely Clean program provides enhanced sanitizing practices you can trust. We also offer free internet access on all motorcoaches, allowing you to study, write a term paper, or just chill and stream your favourite show. The same can't be said when you Rideshare or carpool.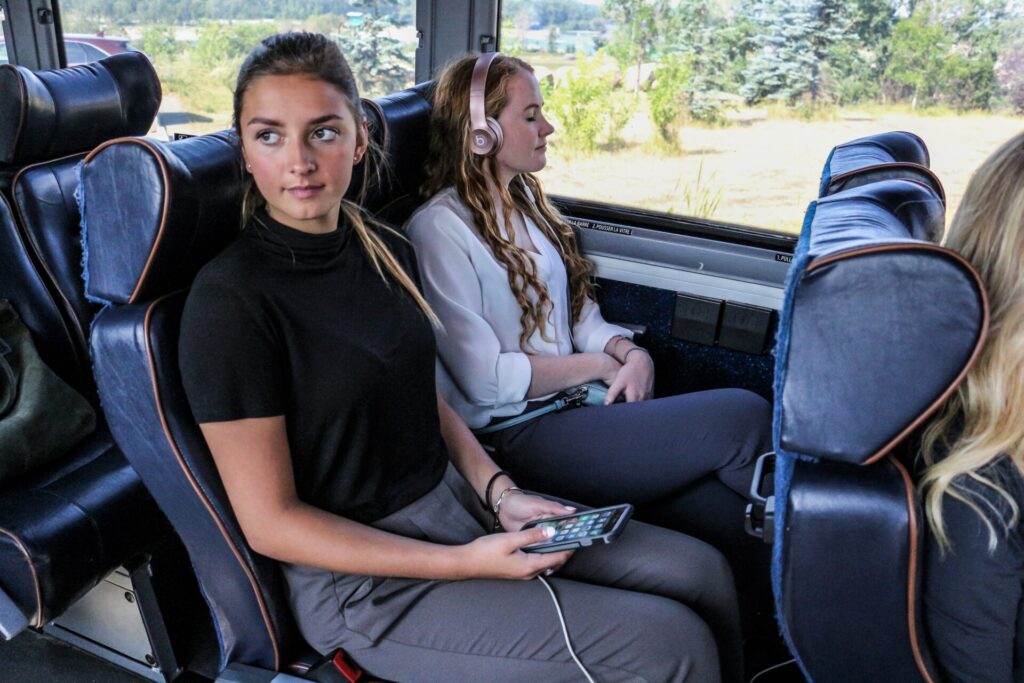 With Ebus, you get all of these amenities. And, don't forget that our professionally trained drivers will expertly navigate the sometimes-daunting routes found in the mountainous regions of Alberta and British Columbia – especially in winter. All you have to do is sit back and relax until you arrive at your destination.
We feel that once university and college kids experience the ease and comfort of Ebus, they'll never go back to carpooling.
Ride Back to School in Comfort and Safety
Many students have tried borrowing, renting, or even buying a beater to get to school. With high gasoline, insurance, and vehicle maintenance prices these days, is driving yourself really worth it? Some post-secondary pupils try online message boards to find a lift to and from their hometowns and colleges.
Yes, hitching a last-minute ride can get you there, but why ride with a complete stranger in a potentially unreliable vehicle? And, what about insurance and liability issues in case of an accident? Travelling by car with unfamiliar people can be uncomfortable. Depending on who is driving and what kind of vehicle you take, you may be in for a bumpy trip to your university or college
Why take the risk? We suggest you simply hop on Ebus for a safe and secure ride. We provide a reliable and cost-effective means of travel to your campus – no matter how often you navigate to and from your university or college. And the best part? You won't have to scour the internet to find someone who may or may not be going your way. Ebus has you covered.
The "E" in Ebus is for Environmentally Friendly
According to a recent survey, university students in Canada are paying more attention to climate change than ever before. At Ebus, we can offer post-secondary attendants the most sustainable means of travel available on the market. Motorcoaches have the lowest carbon footprint compared to cars, trains, or air travel.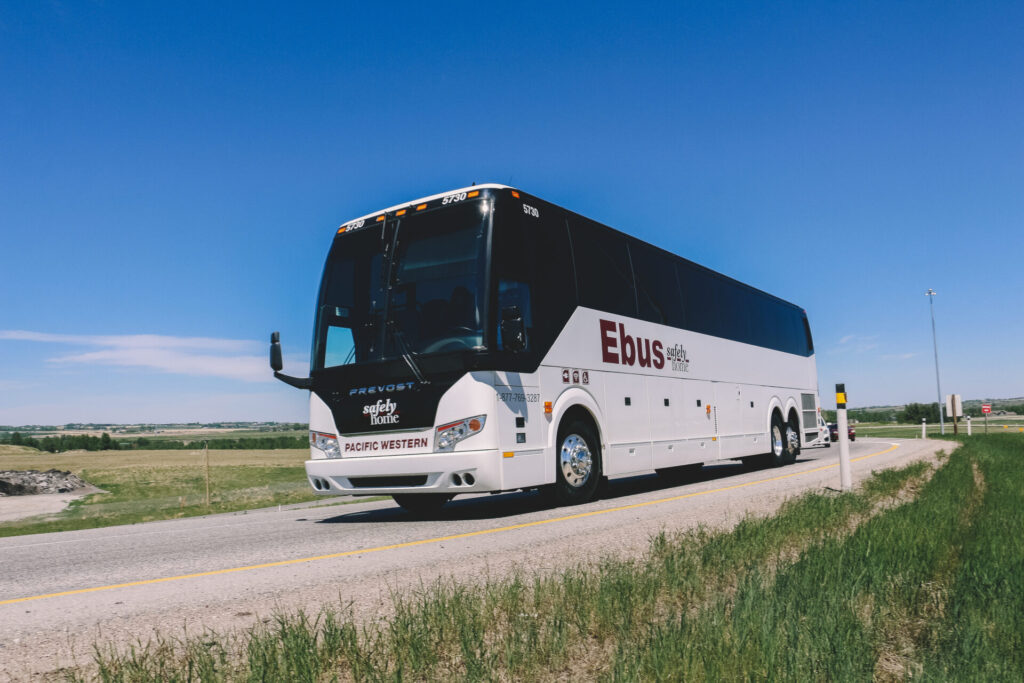 Ebus provides an environmentally friendly alternative by taking more cars out of the equation. Just one motorcoach takes up to 52 cars off the road, significantly reducing congestion. Furthermore, for every person who takes the bus instead of travelling alone in a vehicle, CO2 emissions are reduced by 85%. Take a bus – save the planet!
We Share Your Sense of Social Responsibility
Many students believe it is paramount to pressure corporations to move to greener alternatives, and we couldn't agree more. At Ebus, we recognize the vital role the transportation sector plays in enabling the transition to a low-carbon global economy.
The current crop of post-secondary students is the most technologically connected generation to date. As a result, they are well informed about social responsibility and have a deep understanding of how people around the world are affected by the actions of both individuals and big companies. We get that and are committed to doing our part to support positive environmental and social outcomes within the communities we serve.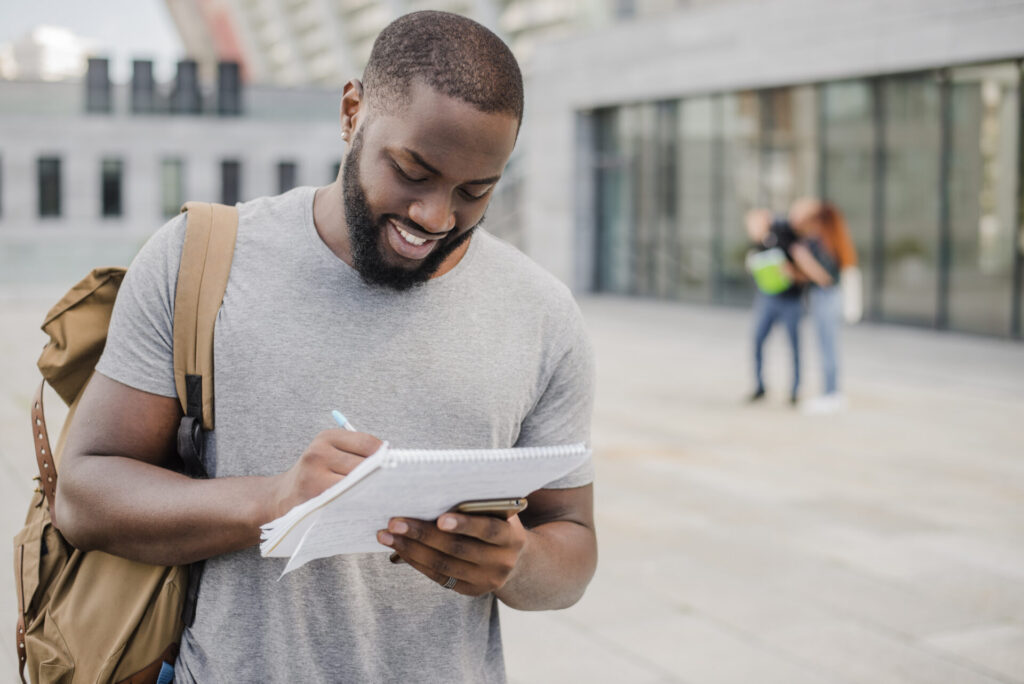 This past year, Ebus has assisted displaced Ukrainians arriving in Canada, supported numerous local charities and re-upped our commitment to grow a sustainable people transportation company. We believe integrating progressive environmental, social and governance positions into our corporate strategy is fundamental to our long-term success.
A Student Budget-Friendly Option
If you're enrolled at a post-secondary institution in Alberta or British Columbia, Ebus can get you there. The long list of "college towns" we serve includes Vancouver, Abbotsford, Chilliwack, Kelowna, Kamloops, Calgary, Edmonton, Red Deer, Lethbridge, Medicine Hat, Fort McMurray, Lloydminster, and Vermillion.
Our fares are always cost-effective and student budget-friendly, with one-way rates starting at under $50. We can also save a chunk of change when you use the discount code EBUSONLINE. That automatically saves you 5% on your fare when you book online.
Now is the time to plan ahead, book your ride and arrive at school with plenty of time to spare. Hopping aboard an Ebus has never been easier, and we would love to be your connection to and from campus this year. Good luck to all new and returning students!