There is a rich history of intense sports rivalries in Alberta, but none have the passion and tradition of the Canadian Football League's Battle of Alberta. The Calgary Stampeders and Edmonton Elks have been battling head-to-head since the late 1940s, and there's no better example of this classic rivalry than the annual Labour Day Classic, held each year in Calgary at McMahon Stadium.
Calgary hosted the very first Labour Day Classic in 1959, and the two Western Division clubs have since battled it out a total of 55 times. The Stamps hold a slim advantage in the win column with a 28-26-1 record, so the 2022 edition is Edmonton's chance to tighten up the series.
Elks Fans – Make Some Noise at McMahon Stadium on September 5th
If Elks fans need a lift from the land of green and gold to cheer on their team on Labour Day Monday, Ebus can be your ride to the big game.
We offer multiple departures to the Stampede City from Edmonton, starting at just $55.71, with an additional 5% off when you enter the EBUSONLINE promo code at checkout. So, what are you waiting for? Ebus is the most cost-effective way to see these two gridiron rivals get down to business at the 56th Labour Day meeting!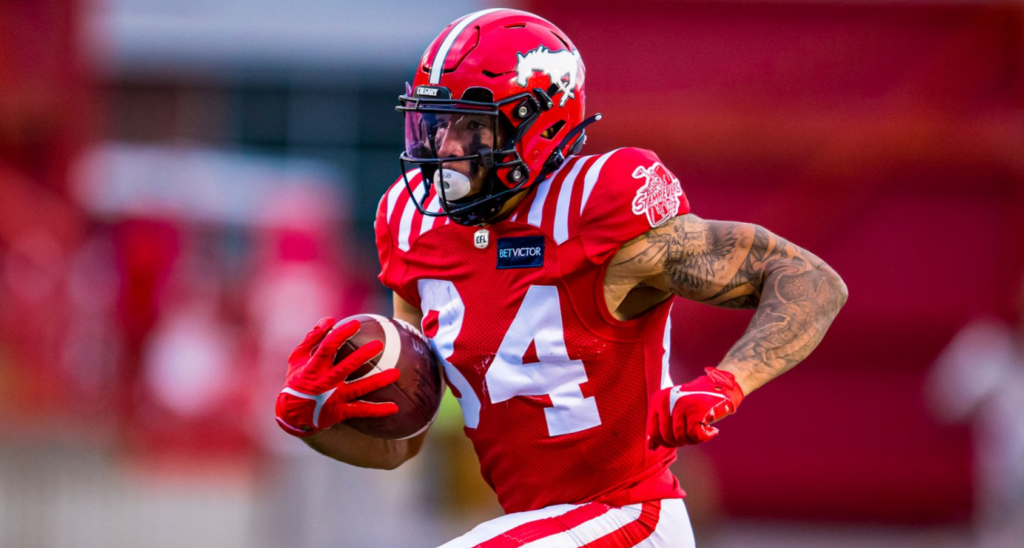 Getting to Cowtown in time for the big game is a snap with Ebus. Departing from our downtown Edmonton ticket office at 8:45 AM will get you into downtown Calgary at 1:20 PM, with plenty of time to get to McMahon Stadium for the 2:30 kickoff. To get back to the City of Champions, hop on our 5:45 bus, which rolls into the Alberta capital at 10:15 PM.
Stamps Fans – You Can Take in the Rematch in Edmonton 5 Days Later
What makes this CFL dogfight even more intense is the fact that these two teams face off twice in the same week! Just five days after the Stampeders host the Elks on Labour Day, the rematch takes place on Saturday, September 10th at Commonwealth Stadium in Edmonton.
Calgary riders can also take their pick of multiple departures to the City of Champions, starting at just $55.71, with an additional 5% off when you enter the EBUSONLINE promo code at checkout. If Edmonton fans can make the long weekend trip down the QEII to cheer on their Elks, then Stamps fans should definitely return the favour for the Saturday night rematch.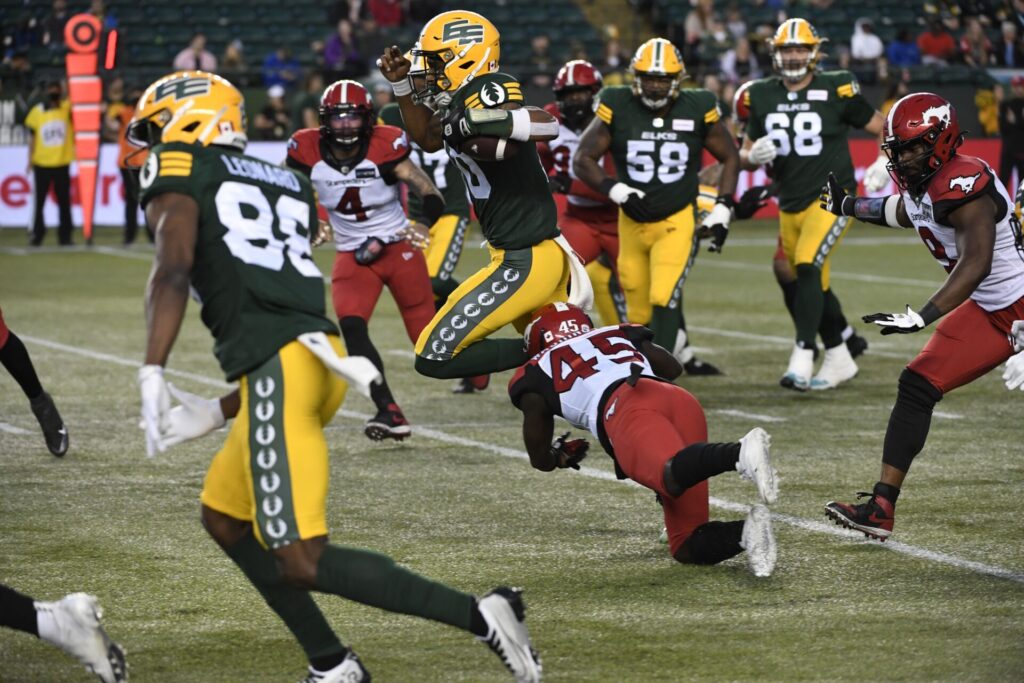 Hopping on our 11:15 AM bus to Edmonton will get you to the game a couple of hours before kickoff, giving you ample time for a pre-game party. Then, after the dust settles on another Battle of Alberta, why not relax and make a weekend of your stay in the capital region? You can choose from multiple departure times for the return trip home to Calgary on Sunday.
Ebus' Smooth Ride Gets You to the game refreshed and ready to Cheer
You and your buds could squeeze into a car to get to the latest gridiron Battle of Alberta, or you can save money or gas, kick back, relax and let Ebus do the driving. We offer cushy, adjustable seats with ample leg room and plenty of storage space.
Instead of focusing on the road, travelling on Ebus gives you and your friends ample time to get pumped up for kickoff.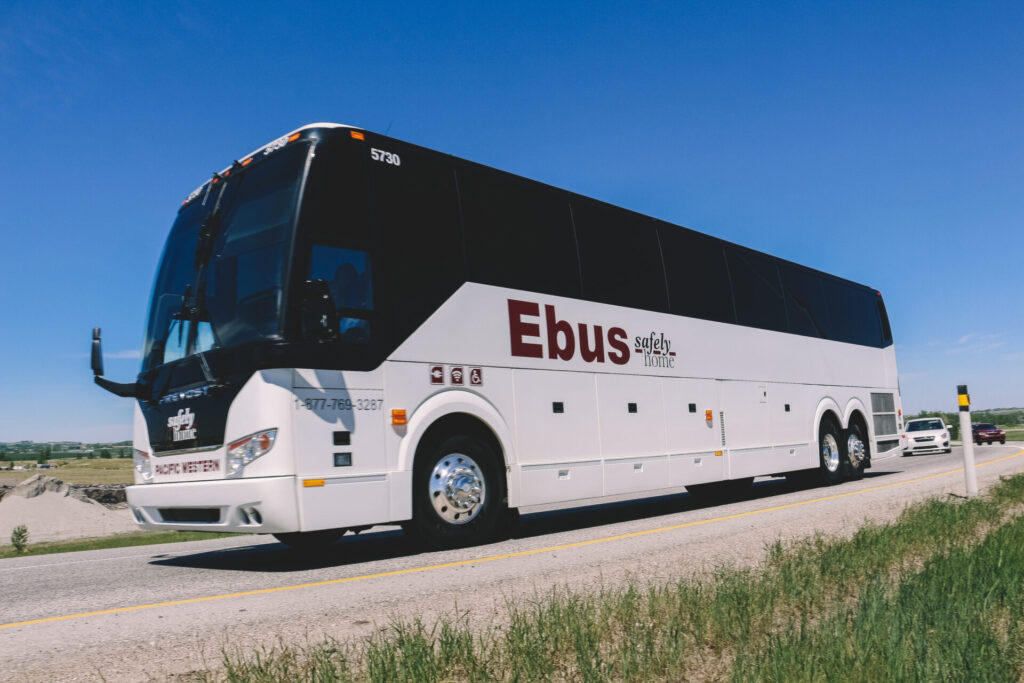 Our comfortable seats will have you refreshed and ready to cheer on your side of the Battle of Alberta. After the game, you don't have to worry about driving down the QEII feeling exhausted. Ebus will get you and your crew Safely Home.
This Classic CFL Rivalry Always Fires Up Our Offices in Calgary and Edmonton
The Stampeders and Elks have passionate fanbases, and that rivalry extends to our offices in Calgary and Edmonton. Ebus employees always have a lot of fun when Alberta sports teams renew their annual hostilities.
These two teams really don't like each other, so when they face off on the field, you can bet Ebus co-workers are also getting in on the action. Our two biggest provincial offices will be squarely behind their respective home teams when these CFL Western division rivals kick off their home-and-home series next week.
Ebus Has Your Ticket to More Great CFL Action
Follow Ebus on Facebook, Instagram and Twitter for your chance to score Edmonton Elks tickets all season long. We're always having contests and great giveaways to reward all you die-hard CFL fans.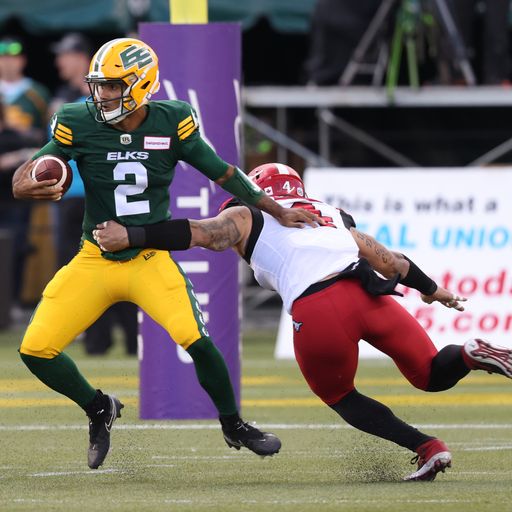 Be sure to come to Commonwealth Stadium on October 15th for the Elks/Argos matchup and a special Ebus event! Just look for one of our motorcoaches at the game for your chance to win some fun prizes.
Remember, the Battle of Alberta kicks off at McMahon Stadium on Monday, September 5th, at the Labour Day Classic, with the grudge match just five days later in Edmonton. This is one classic rivalry you should really see in person, so let Ebus be your ride to both of these big games.
Go Stamps! Go Elks!